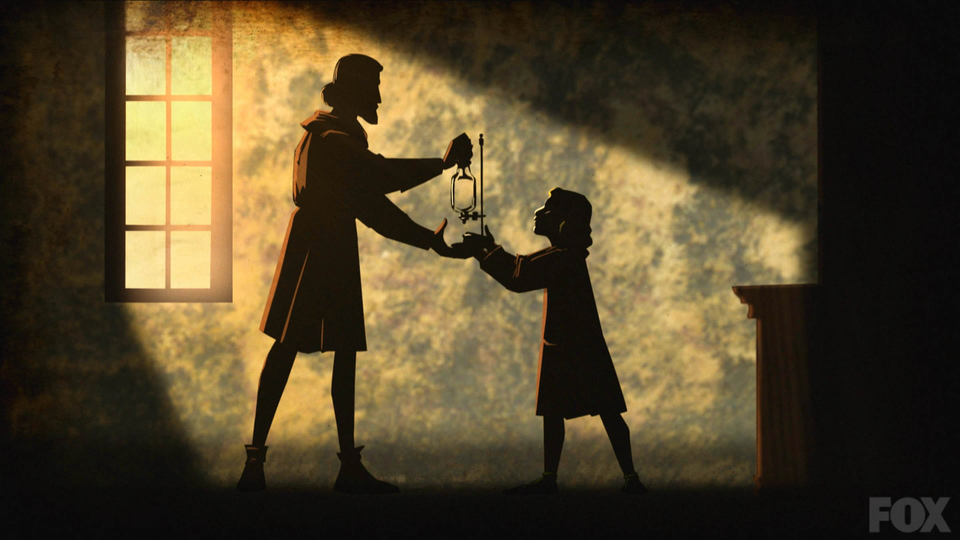 A young Edmond Halley is more curious than frightened. (cosmosontv.com)
Missed this episode? Check it out for free here!
This week, Cosmos took us on a journey from our childlike fear of the unknown to the edge of the Solar System, from astrology to astronomy, and from what we thought was an
ad hoc
 chaos, to the law-abiding cosmos. The story of comets begins with our inchoate understanding of the night sky as a divine gift to aid us in knowing when to sow and when to reap. Any disturbance in such a wondrous and orderly display was certain to foretell some disturbance on Earth, just as the rising of Orion foretells the coming of winter. The Chinese had even worked out a relationship between the kind of disaster and the number of cometary tails!
Kepler's laws of planetary motion implied something simpler was going on, though. The planets didn't move in perfect circles, but rather ellipses with the Sun at one focus. What a peculiar arrangement for God, the ultimate clock-maker, to use—Every good horologist knows that circles are simpler. There had to be a reason, some force that pulls the planets towards the Sun, but no one could think of what it could depend on. After a few interesting speed bumps (like the History of Fish eating up the Royal Society's annual budget), Edmond Halley was able to convince Isaac Newton to publish his
Philosophiae Naturalis Principia Mathematica
, and are we ever glad he did. Not only did it propose the correct form of the gravitational force (it
was
 considered just a force then, fellow nitpickers), but it detailed the mathematical relationship between the force and the motion of the planets, and introduced us to Newton's Laws of Motion, still the backbone of engineering mechanics over 300 years after their discovery.
The last link in the chain comes with Halley's use of the new gravitational laws to compute the period of the comet which we now call his. He predicted its return 16 years after his death, and when it was confirmed it became the first object known to orbit the Sun apart from the planets. So returning to the original model of comets as harbingers of doom, either God had something nasty in mind every 76 years, or the ancients were a tad oversure of the correlation between
disasters
and
bad stars
.
Let's take a look at some of this week's notables: